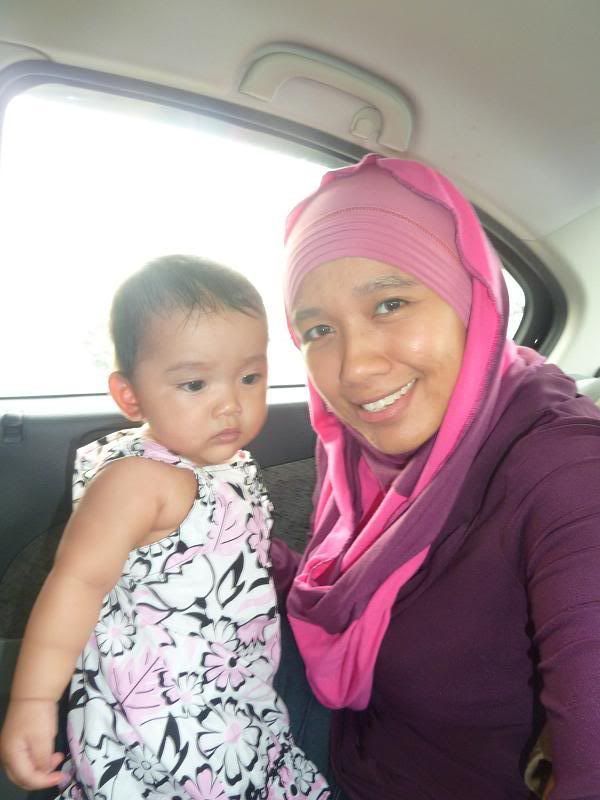 Saturday and Sunday we went to Tiara Beach Resort, Port Dickson for my office family day. We were one of the last few to arrive around 5 something or nearly 6 and I totally blame my husband for that! Because of that lateness, we didn't manage to join the sukaneka fun! I so want to join that one, not because there are moeny to be won or anything - saja je la..suka menang! Haha.



Even Baby Almira jumped into the swimming pool! Well ok she didn't jumped inside, but I made her lah.



But, it's a different story pulak for abang Almira. Lebih 20 kali tanya aku soalan seperti "kenapa kena datang sini?", "kenapa ramai orang kat sini?", then nampak pulak ada clown lagilah dia lari terkuncit kuncit sambil menangis. Hish. Letih mak ni pujuk dia supaya mandi hinggakan last2 paksa dia masuk jugak. Kehkeh. Tengoklah gaya seperti ibu tiri yang garang dalam gambar di atas.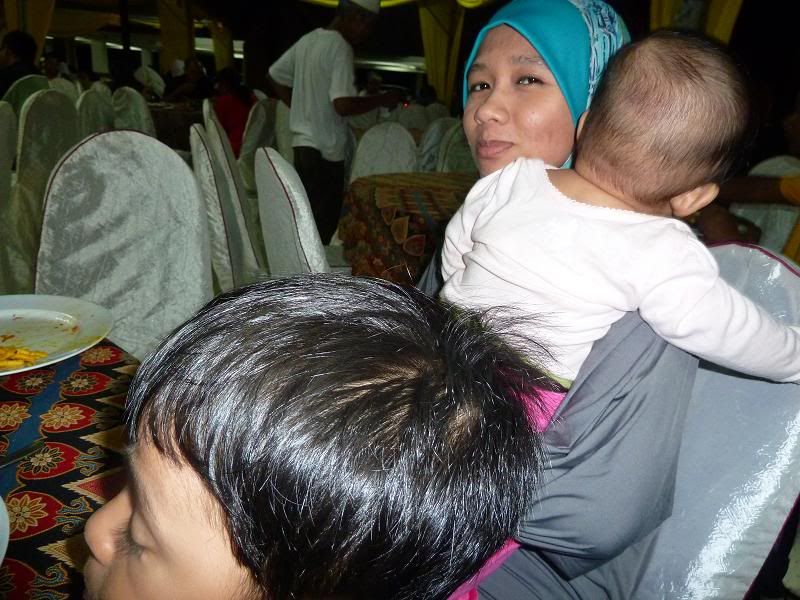 At night dinner was not so okay, ke should I blame husband for not taking food yang ok? Haha. Aku malas nak bangun sebab jaga baby kan, but baby Almira was super darling sebab boleh dia tidur nyenyak time orang-orang tengah menyanyi karaoke. Husayn macam biasa dengan 1001 soalan. Kali ni asyik tanya "kenapa kita kena makan kat sini niiiiii" Lucky draw dapat pulak coffee maker walaupun aku ada lagi coffee maker hadiah kawin dulu yang tak pernah bukak, tapi syukur alhamdulillah dapat hadiah kan.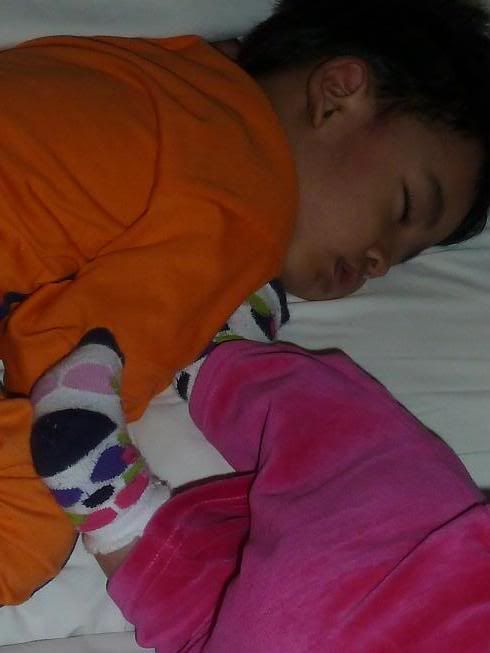 Letih budak 2 ketul ni tidur sampai kaki Almira sudah sampai ke muka abangnya. The room here is okaylah, we rented a studio room and the room was quite big, got 2 single beds but we combined the bed together so the 4 of us can fit onto that bed!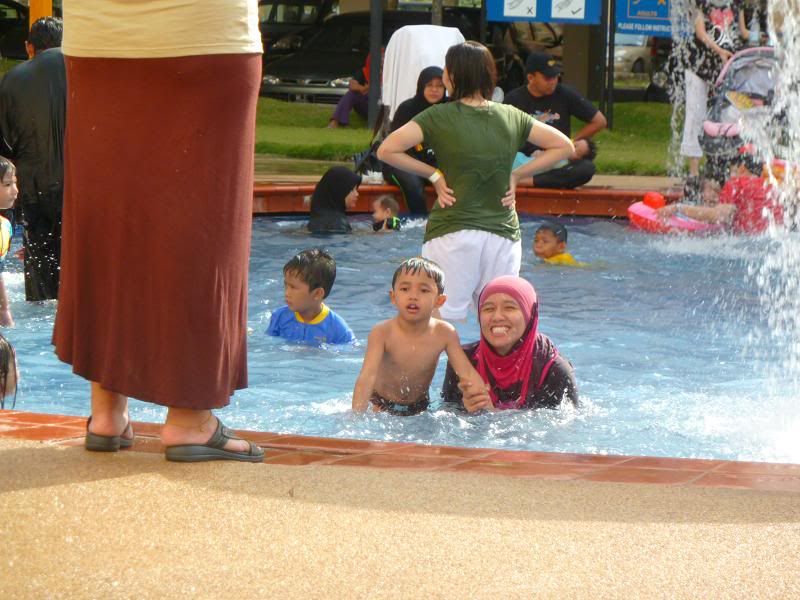 The next morning after breakfast I forced Husayn to go brendam in the pool again! Tengoklah husbandku ambik gambar siap nampak punggung makcik mana tah ni. Ish.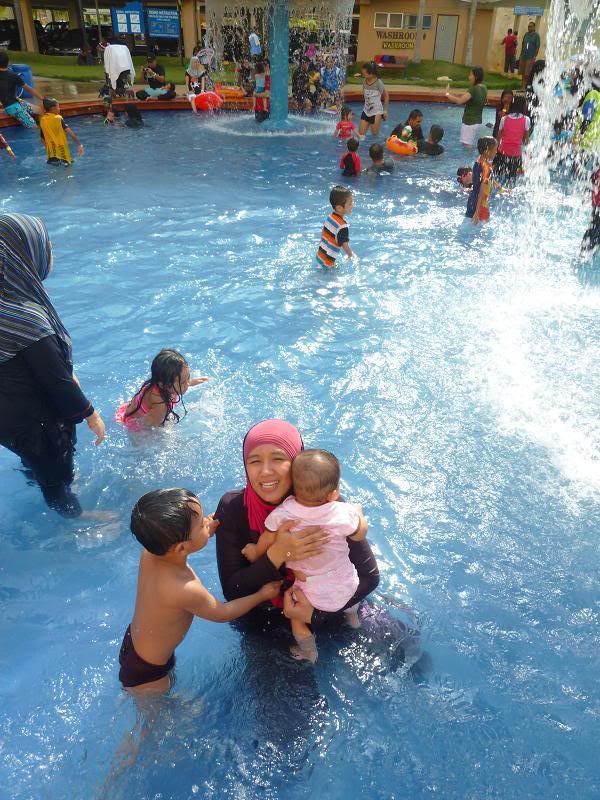 Tengoklah anak siapakah yang turun masuk pool pakai sependa Ben10 tu? Kehkeh. Kat sini aku tengok macam takdela strict sangat kena pakai swimming suit ke apa. Kau nak terjun dalam tu pakai baju kurung atau jubah pun takde hal kot.


Husayn adalah suka sangat permainan tembak-tembak air ni. Tengoklah gayaku denagn tudung yang dah nak tercabut tu. Nasib baik ada anak tudung yang hebat. Wahaha.


Tengok Almira yang dipaksa mandi jugak sebab nak mengumpan abangnya mandi sekali. Kihkih. Eh Husayn Zharief, pegang apa tu aaaa!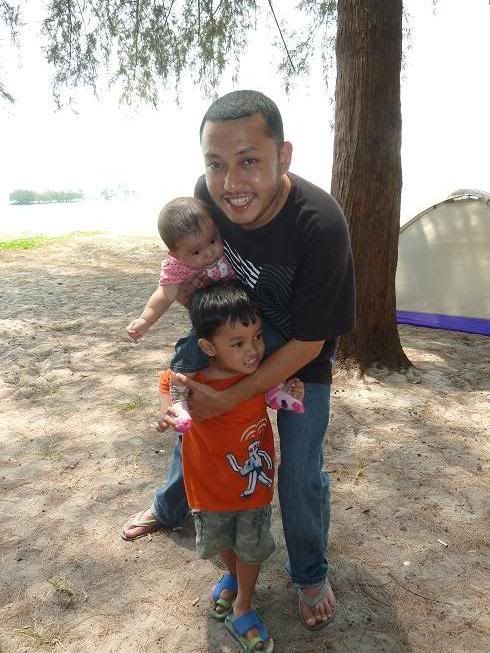 Afer checked out, we went to the beach - more like Husband and the kids went to the beach, aku nak turun pun malas sebab panas ya amat. Tetiba sedih tengok gambar di atas, sebab this will be our last vacation together before husband goes far far away to work and will only be back on November or December kot. *wooo..wooooo*